Christian Body Image and Comparison Workbook and Books
Looking for biblically sound, encouraging books to help your body image?
COMING SOON!
Releases December 2023
Heather's next body image workbook is coming soon! If you're a Christian woman looking for a great way to improve your body image, this book will take you on a journey through scripture and topics that are pivotal for changing the way you view your body. Keep an eye out for upcoming information!
COMPARED TO WHO?
A Proven Path to Improve Your Body Image
By Heather Creekmore
Have you tried the diets, exercise programs, and self-help rituals, but still feel stuck when it comes to your body image? Do you sometimes feel frustrated because you compared yourself to others and fall short? Are you tired of Christian books that tell you "It's what's on the inside that counts!" and leave you unchanged. Then Compared to Who? is for you.
Learn More
THE BURDEN OF BETTER
How A

Comparison Free Life Leads to Joy, Peace, and Rest
By Heather Creekmore
Ever wonder why it's so easy to compare ourselves to others? Or, why it's so difficult to stop? In an era of carefully curated social media images, non-stop selfies, and channels devoted to perfecting everything from your home to your dinner plate, comparison consumes us! And, chasing better becomes a burden! It weighs down our souls and prevents us from experiencing satisfaction or rest.
In The Burden of Better, Heather Creekmore draws on her own struggles with comparison to explore its hidden roots and antidote: grace. With humor, entertaining personal stories, and a heaping dose of empathy, Creekmore takes you on a journey from the life of comparison into the freedom and contentment found by living the life of grace.
Learn More
THE MOUNTAIN TOP EXPERIENCE
Personal Body Image Retreat Curriculum
By Heather Creekmore
Transform your body image by using this 31 page curriculum! Designed for use during a two-hour personal retreat, the program will take you through scripture, examining what you believe about yourself, God, and beauty. Questions through each of the six sections will challenge you and help you identify the core of your body image and comparison struggles. The included prayers and exercises make using this program meaningful and impactful.
Download Now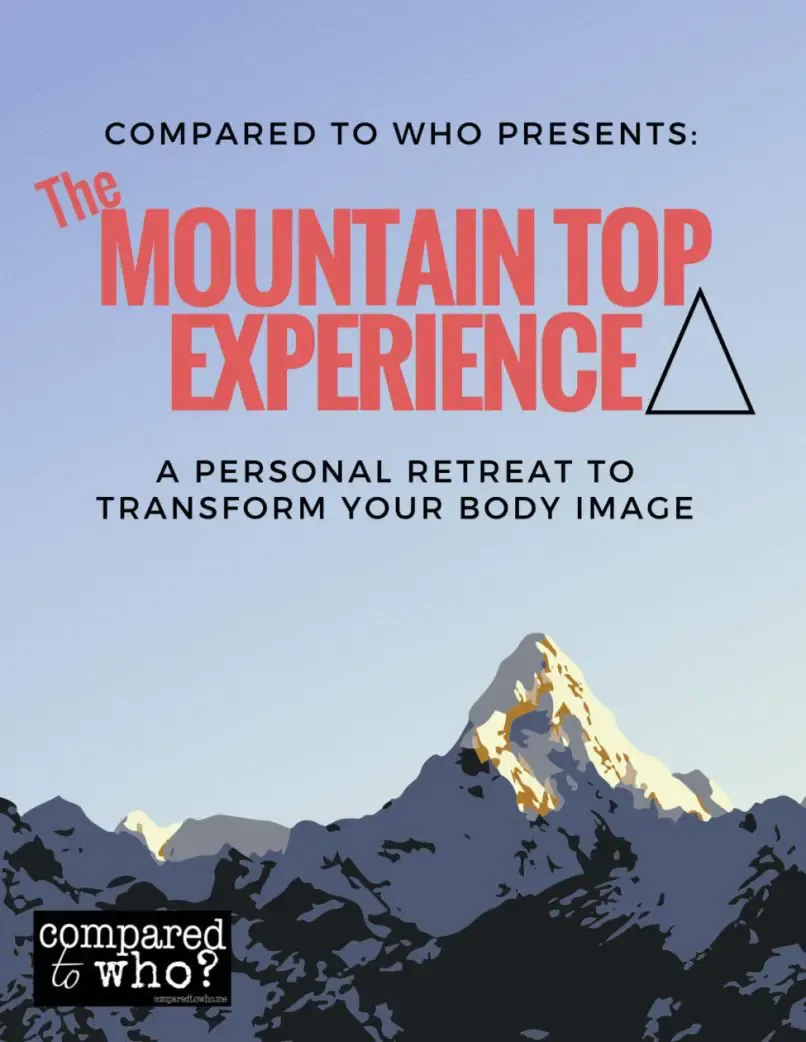 BIBLE READING PLANS ON YOUVERSION
On Christian Body Image
By Heather Creekmore
Heather Creekmore from Compared to Who? has brand new Bible reading plans available on YouVersion – the Bible App!
The latest plan is a 7-Day reading plan to help you live a Comparison-Free life. It's called, "The Burden of Better: How to Live a Comparison-Free Life." Don't like to read, play the audio each day and listen to the encouraging content.
Other available reading plans include a 10-Day Reading Plan to Improve Your Body Image and a Special Christmas Reading Plan for a Comparison-free Christmas.
Learn More